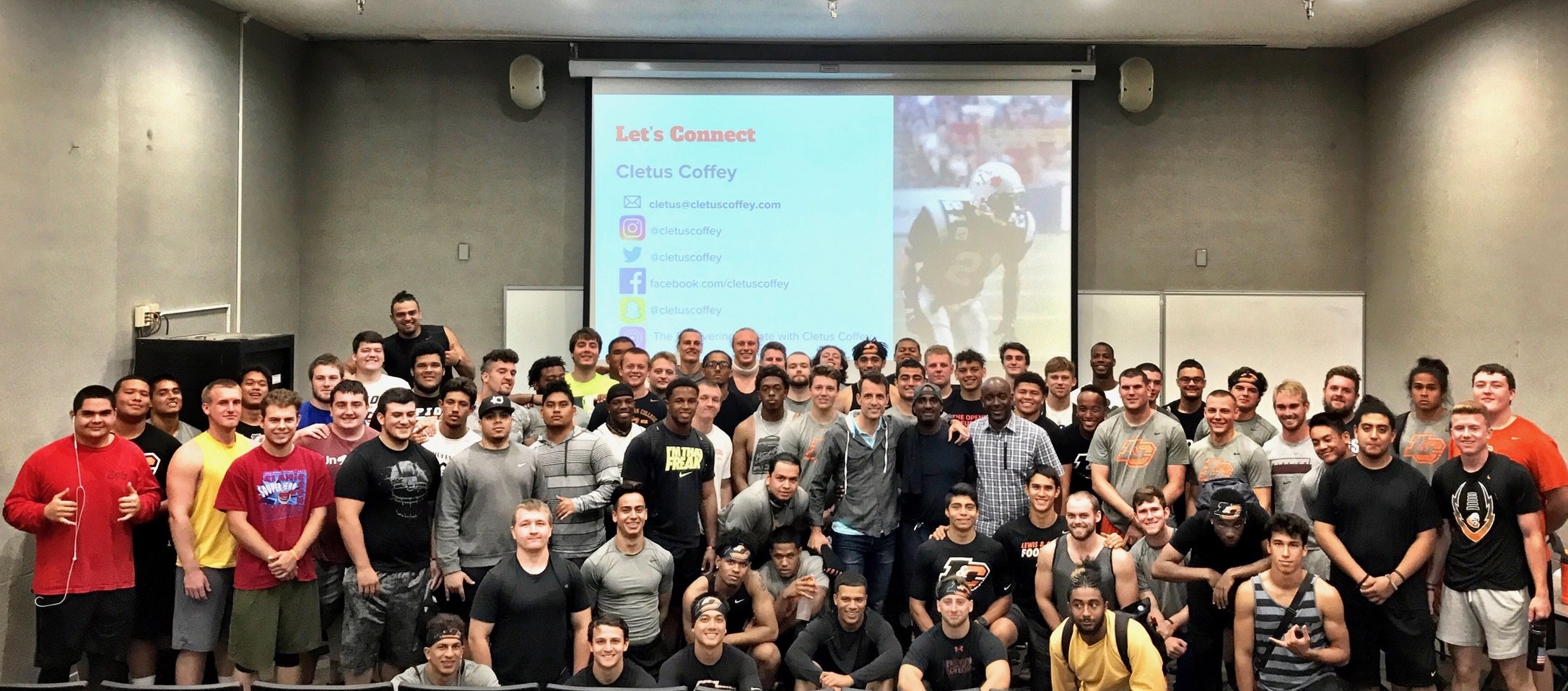 LIFE AFTER SPORTS THE WORKSHOP
IDEAL FOR: Athletic Departments | Coaches | Athletes | Corporate Leadership
A simple Youtube search can teach almost anyone the X's and O's of sports and business, so in today's highly competitive landscape, how are you separating yourself as a leader?
This workshop is designed for Athletic Departments and coaching staff, who want to leave a legacy beyond Wins and Losses. This "Train the Trainer" workshop focuses on infusing into the culture and philosophy of a team, the preparation of athletes to reach their HIGHest potential in life after sports.
Following a specific curriculum sports leaders will learn how to increase an athletes, and teams, performance, while at the same time developing high performing human beings, who will be well equipped for accomplishing their goals in life once their sports careers end.
Through interactive and engaging activities, your staff will be introduced to concepts, skills, and techniques to create a winning culture both on and off the field.
Want to have your athletes go through this workshop? No problem, the entire program can be tailored to support athletes of all ages.
*The Life After Sports training is also available for corporate teams looking to develop a culture of high quality, high performing teams who are making a positive impact at work, and outside the office.
HEALTHY LEADER
Creating a Lifestyle by Design for Optimal Performance in Life and Work
IDEAL FOR: Sports and Business Leadership Teams | Coaches | Executives | Sales Professionals
"The mediocre teacher tells. The good teacher explains. The superior teacher demonstrates. The great teacher inspires." - William Arthur Ward
What good is a championship or record breaking sales numbers if it comes at the sake of a coach, or an executives, health, family, and overall wellbeing?
This workshop is focuses on helping coaches, executives, and professionals, achieve optimal performance in life and career. In order to get the results you are looking for from your team, you need to be performing at your highest level of productivity, energy, health, mental focus, and passion.
Cletus trains coaches and executives to lead by example by being able achieve their career goals, while at the same time, having their lifestyle their desire in life outside of sports and business. This win/win dichotomy will positively affect the culture, experience, and results of their teams and the individuals who they lead.
Topics Covered:
Aligning work and engagement, with mission, values, and passion.
Creating a lifestyle by design for optimal health and career success.
Exposing common road blocks preventing you from getting better results with less time.
Cultivating, growing, and sustaining energy for all areas of life.
Myths that are cultivating stress, uncertainty, mediocre results.
Productivity hacks for coaches and executives to be laser focused on whats important at work and home.
How to model your behaviors to inspire your teams success.
Have a need to inspire, empower, and improve your teams performance? Contact Cletus to collaborate on a program that will meet your specific, goals, needs, and desired outcomes.